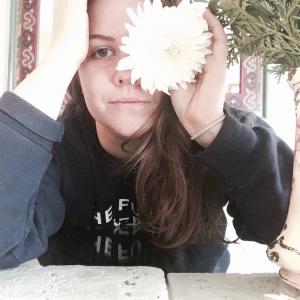 Katrina Jurjans
Artist member since 2018
Toronto , Ontario
Katrina graduated from Concordia University in 2014 with a BFA in Studio Art and Art History. In her last year of studies, she became increasingly fascinated with spatial theory and in particular spaces of transition and notions of ephemerality, memory, transformation and emotionality. Manifesting in various forms throughout the years, these ideas have been brought to the conceptual forefront of her painting practice, where they have been solidified into the visual language of pattern, layering, colour and spatial tension.
---
Describe your home in 3 words
plant-filled, natural light, calm
Coffees per day and from where
around three give or take. From home, cafes close to my studio and when I'm walking and coffee smell wafts into the air
Which piece of art you've created is your favourite, and why?
I gravitate to the pieces that are created when I'm in an intense emotional space because a lot of that emotion gets left on the canvas. As I move on, my attachment will change.
Upcoming Exhibitions
Toronto Outdoor Art Exhibition
Nathan Philips Square, Toronto
art fair
Select Past Exhibitions
2018
Brooklyn Expo Center, New York
The Other Art Fair
2018
Vuco Artspace, Toronto
In all forms, love is reshaped
2018
Hashtag Gallery, Toronto
"ŠMIJ (Šī Māksla Ir Jauna - This Art Is Young)"
2018
Arta Gallery, Toronto
Dear World
2017
Artspace Youngplace, Toronto
for a moment it comes together (and you're the only one)
Accolades
2017
Marie Collins Memorial Award & Artscape Award
Best of Student
2017
Toronto Outdoor Art Exhibition
Best of Painting
Press
2018
Rt Breeze, video interview
In Awe
2018
Horst und Edeltraut
nothing exists in isolation
Residencies
2018
Artscape Gibraltar Point, Toronto Island
self-directed
2015
Oaxaca, Mexico
Obracadobra
SHARE THIS ARTIST